Original link : http://yis.nanjing2014.org/yis/en/article/20140819000052_en.html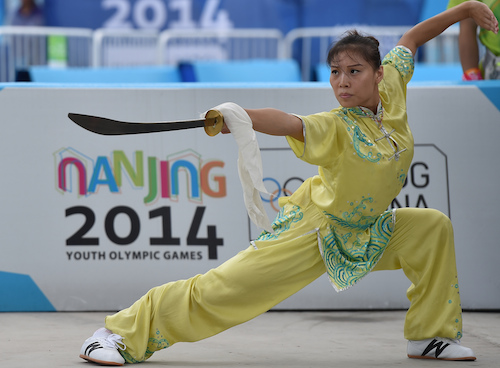 Photo by IOC Young Reporter Pallavi Prasad
NANJING, Aug 19 – Have you ever imagined that you were Jackie Chan taking on a group of baddies armed with a big stick and a sword? If so, wushu is for you.
The popular Chinese sport combines the grace and elegance of soulful martial arts with the explosive fun of a 1980s kung fu movie. Oh, and there are staffs, spears, swords and whip chains involved. It is quite a ride.
One of four demonstration sports at the Nanjing 2014 Youth Olympic Games, 16 international athletes are currently showing off the best of wushu twice a day at the Sports Lab.
There are many fascinating things to discover. For example, who knew that t'ai chi is one of a multitude of disciplines that form wushu?
"It is a contemporary art form," explained Mario MARTINEZ (USA), coach of the USA's national wushu team. "It is very technical and acrobatic, similar to gymnastics but every move is rooted in a martial arts application."
In modern competition there are two distinct disciplines. The poetic taolu is similar to the floor routine in gymnastics but punctured with head-spinning thrusts, slashes and parries, with a variety of dangerous-looking weapons often involved.
Next up is the combative sanda. Participants wear breast and feet pads and head guards, with points awarded for well-directed kicks, punches and judo-esque throw downs.
"We need to do so much, there are so many different styles and movements," said Daria TARASOVA (RUS). After a moment's thought, the 26-year-old added: "When you fight you are imagining the enemy."
This sense of genuine intention is key.
"Judges want to see movement, power and spirit in a movement. It can't be empty or flowery," MARTINEZ said.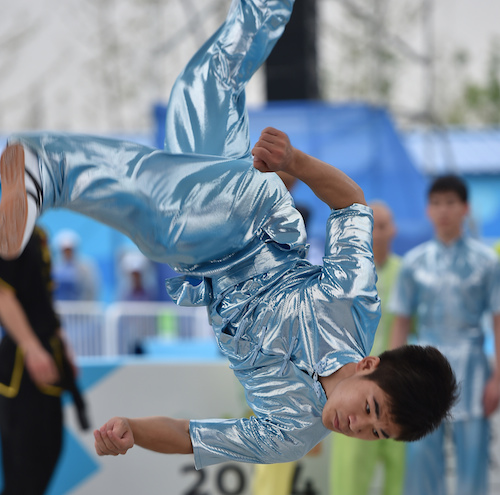 Photo by IOC Young Reporter Pallavi Prasad
Unsurprisingly, given its origin, the sport has been dominated by the Chinese. This, however, is changing.
"To have the opportunity to show them [the Chinese public] that not just Chinese can be good is really cool," Michele GIORDANO (ITA) said.
Athletes from India, Indonesia, Iran, the USA and Russia have joined the Italian national wushu champion in Nanjing, giving an indication of the sport's broadening reach.
Indeed, TARASOVA is one of the global stars of wushu, winning two world championship gold medals and 17 European titles.
The sport received a significant boost at the Beijing 2008 Olympic Games.
"We lived in the Olympic Village, we felt like Olympic athletes," TARASOVA said. "It was the best experience of my life."
Nanjing is providing wushu with another excellent opportunity to showcase its best qualities.
The choreographed fight scenes on show, some involving three or more combatants, and others with spears and staffs, would impress even Mr Chan.